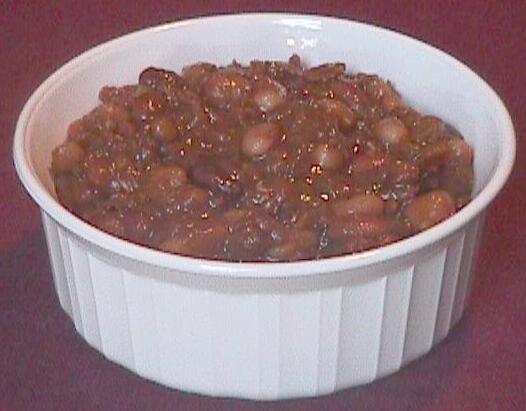 Debby's Country Beans
2
cups
( 1 pound ) mixed beans, lentils, split peas
at least 4 cups water for soaking
4
cups
water for cooking
1
large onion, chopped
1/4
cup
vegetarian "bacon" bits
2/3
cup
ketchup
1/3
cup
molasses
1/4
cup
sugar
1/4
tsp
dry mustard
1
tsp
Worcestershire sauce
spices as desired (optional - I use about 1/2 tsp mixed
dried herbs such as basil and thyme)
About 4 to 6 servings
Rinse beans well, then place in a bowl and cover with soaking water for 4 hours or overnight. Drain and rinse soaked beans. Put in a large heavy pot and add cooking water and the chopped onion. Boil mixture 10 minutes, then turn to low simmer. Cover pot and simmer mix about 2 hours, until beans are tender. (More water may be needed to keep beans covered.)

When beans are tender, add spices, catsup, molasses, sugar, dry mustard, Worcestershire sauce and artificial bacon bits. Leave pot uncovered and simmer beans another half an hour, stirring several times.

Great with biscuits or cornbread.