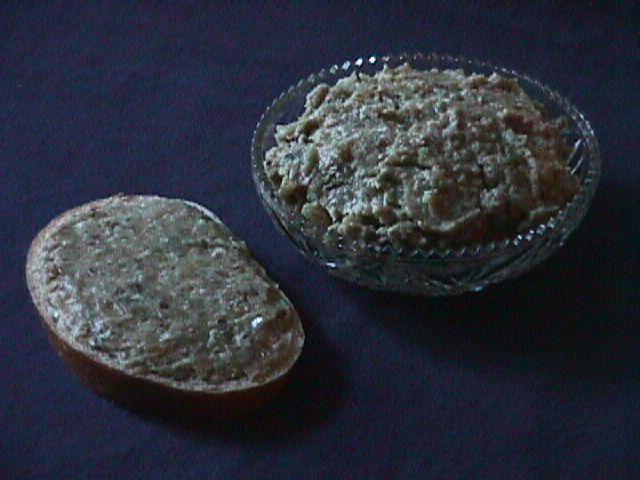 Eggplant Pâté
1
medium eggplant
3
eggs
1
onion
butter or oil for frying
1/2
tsp
salt
black pepper to taste


Optional ingredients:
1
tsp
lemon juice
1/4
cup
tahini
1
clove garlic, minced
1/4
cup
minced parsley
Place eggplant on a pan and prick the upper surface several times with a fork. Put in 400°F oven and bake until very soft and saggy, at least 45 minutes.

When eggplant is done, cut open and scoop out flesh. The flesh should mash easily without remaining stringy; if not, put it back in the oven until it's soft enough. Mash well.

Hard boil the eggs. Peel and mash well.

Dice the onion and saute in butter or oil until soft & golden. (If using garlic, it may either be sauteed with the onion, or used raw.)

Combine all ingredients and chill. (Note I usually omit all of the optional ingredients, sometimes just adding the lemon juice.)

This is wonderful spread on San Francisco Sourdough French bread. It can be served as an appetizer or as a main dish.