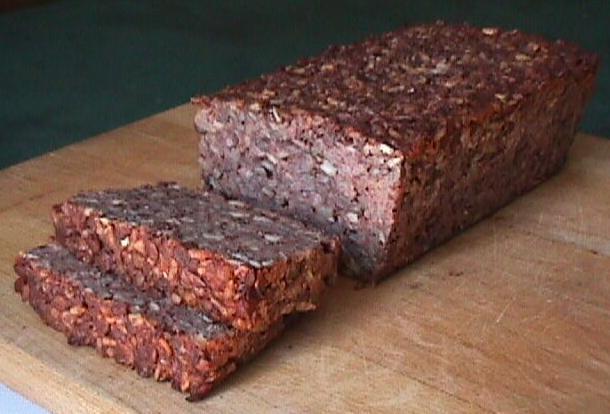 Lentil Loaf
1
onion, chopped fine
1
Tblsp
oil
1
cup
dry lentils, cooked and drained (reserve 1/2 cup liquid)
1/2
cup
whole wheat bread crumbs (about 2 slices)
1/2
cup
chopped walnuts, or toasted sunflower seeds
1/2
tsp
sage or thyme
2
Tblsp
whole wheat flour
2
eggs, beaten
1/2
cup
reserved lentil-cooking liquid, or broth
2
tsp
soy sauce
1
cup
cooked rice
1/2
cup
ketchup
additional onion, diced (about 3/8 cup )


Use 1 greased loaf pan
Saute finely chopped onion in oil until translucent and slightly browned.

Preheat oven to 350°F.

Mix all ingredients and place in greased loaf pan. Bake for 30 minutes covered, then for 10 minutes uncovered, or until browned.

Serve with ketchup, mustard, sauce or gravy. Good with mashed potatoes and steamed broccoli.