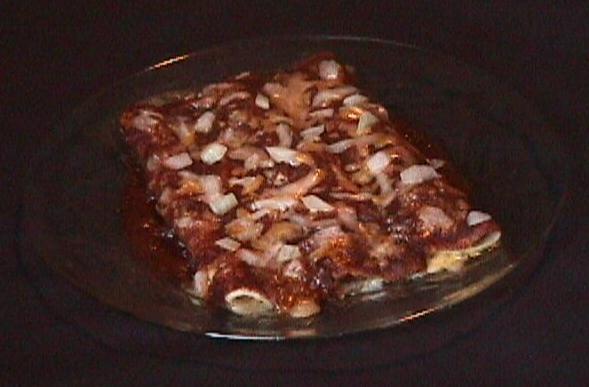 Enchiladas
Sauce:
1
cup
onion, finely chopped
2
cloves garlic, minced
oil or butter


4 to 6
tsp
chili powder
2
cups
tomato sauce
1
cup
stock or water
2
tsp
cumin
salt
pepper
-------------------------


The enchiladas:
corn tortillas
grated cheddar, jack, and/or mozzarella cheese
diced onion


This recipe makes enough sauce for about 30
enchiladas with a moderate amount of sauce
Saute the finely chopped onion in a little oil or butter until soft. Add the garlic and continue cooking until onion is lightly browned. Add remaining sauce ingredients and bring to a boil. Reduce heat and simmer about 10 minutes.

Assemble enchiladas:
Soften a tortilla by placing in a medium-hot frying pan. Spin and flip the tortilla until it is warm and soft. Remove tortilla to a plate. Put a row of grated cheese on the tortilla and roll it up.

Repeat with desired number of tortillas, arranging them next to each other. Spoon on desired amount of sauce (I like just a little sauce, but many prefer a lot of sauce), top with a little additional cheese and some diced onion. Heat in a microwave or traditional oven just until cheese is melted.

Serve with rice, refried beans, and salad.