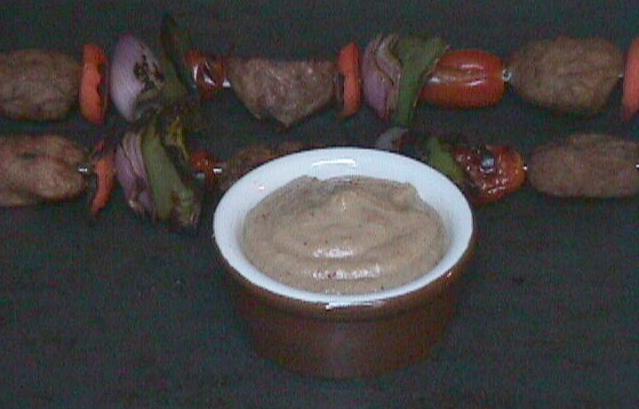 Vegetable Satay (Vegetable Skewers With Peanut Sauce)
assorted vegetables,such as carrots,
green peppers, cherry tomatoes,
mushrooms, onion, wheat-gluten balls
or other mock meat (optional)


Marinade
2
clove garlic, chopped
2
Tblsp
soy sauce
2
Tblsp
water


Peanut Sauce
1
small onion, chopped
1 1/2
tsp
crushed red pepper
5
Macadamia nuts or blanched almonds
1 1/2
Tblsp
brown sugar
4
ounces
crunchy peanut butter
1
Tblsp
oil


3/4
cup
thin coconut milk or water


1
Tblsp
lime or lemon juice
1
Tblsp
soy sauce
salt to taste
If using bamboo skewers, soak them in cold water for an hour. Combine the marinade ingredients in a dish and soak the vegetables and mock meat in this for about 30 minutes. Thread the vegetables and mock meat, if using them, onto skewers or sate sticks, leaving a few inches at the holding end of the skewer.

In a blender, grind the onion, nuts, red pepper, sugar and peanut butter until they form a fine paste, adding the oil if necessary to keep the blades turning.

Heat any remaining oil in a wok and fry the peanut/spice paste a little. Add the coconut milk or water and cook until the sauce is thick but not heavy. Keep the sauce warm.

In the meantime broil the vegetable skewers over a low charcoal barbecue fire or, less desirably, under a broiler until they are cooked. Just before serving, stir the lemon juice and soy sauce into the peanut mixture on the stove, adding salt to taste.

Arrange the skewers on a serving plate. Pour a little peanut sauce over the top if desired, and serve the remaining sauce on the side for dipping. Good served with rice. If you prefer it hotter, scatter some minced fresh red chilli on top of the sauce.

The photograph shows skewers including Veat Vegetarian Nuggets.