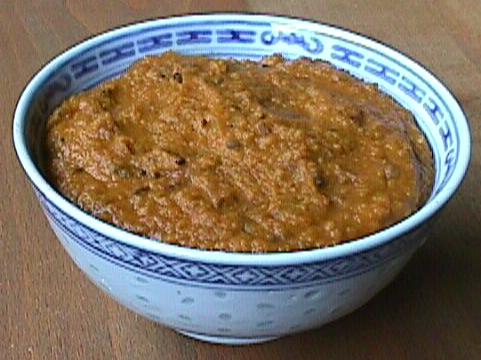 Dal
| | | |
| --- | --- | --- |
| 3 | Tblsp | butter, oil or ghee |
| 1 1/2 | tsp | turmeric |
| 1 | cup | green or yellow split peas |
| | | |
| 1 | cup | pumpkin puree or 1 med zucchini, peeled and chopped |
| | | |
| 4 to 5 | cups | water |
| 1/4 | tsp | crushed red pepper or 1 green chili, minced |
| 1/2 | Tblsp | minced fresh ginger or 1/2 to 1 tsp dried |
| | | |
| 1 | | 8-oz can tomato sauce or 1 cup chopped tomatoes |
| 1/2 | tsp | salt |
| | | |
| 2 | Tblsp | butter, oil or ghee |
| 1 1/2 | Tblsp | cumin seeds |
| 1 | Tblsp | black mustard seeds |
Melt first portion of ghee in a large saucepan, then add turmeric and beans. Fry for 30 seconds on medium heat. Add pumpkin/zucchini and fresh tomatoes if you're using them. Fry for 1 more minute. Add water, red pepper/chili, and ginger. Bring to a boil over high heat, then cover, lower heat, and let dal simmer for 1 hour or until the beans have dissolved into a thick soup.

Add tomato sauce (if using) and salt. Simmer a few more minutes, then set aside.

In a small skillet, heat remaining ghee. When hot, add cumin seeds and black mustard seeds. When the seeds start to crackle, pour the mixture into the pot of dal. If desired, garnish with fresh coriander leaves or parsley. Serve hot with rice.