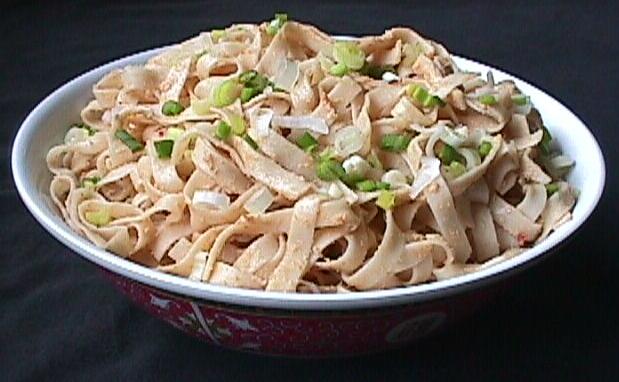 Szechwan Noodles With Peanut Sauce
Szechwan Peanut Sauce:
6
Tblsp
( 3/8 cup ) peanut butter
1/2
cup
plain yogurt
2
tsp
sugar
1 1/2
tsp
soy sauce
1/4
tsp
dark sesame oil
1/2
clove garlic, finely chopped
1/4
tsp
crushed red pepper, or to taste


The Noodles:
10 to 12
ounces
dry Oriental-style noodles or spaghetti
1 1/2
tsp
dark sesame oil


sliced green onions (about 1/2 cup )


Makes 4 servings (each about 1 1/4 cup)
Combine peanut butter, yogurt, sugar, soy sauce, sesame oil, garlic and red pepper in blender container and blend until smooth.

Cook noodles al dente according to package directions. Drain and rinse with cold water. Drain again thoroughly.

Combine noodles and sesame oil and toss. Pour on the Szechwan Peanut Sauce and gently but thoroughly mix. Refrigerate until cold. Serve cold, topped with sliced green onion.