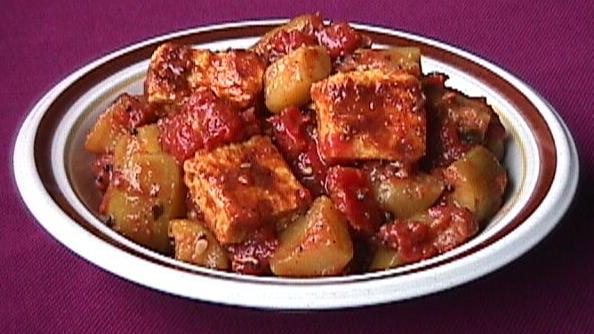 Zucchini, Tomato, and Panir
| | | |
| --- | --- | --- |
| 6 | cups | milk |
| | | oil, butter, or ghee for frying or deep frying |
| | | |
| 1 | | 28-oz can tomatoes with juice |
| | | (or 5 large ripe tomatoes plus 1/2 cup water) |
| | | |
| 1 to 2 | pound | zucchini or 1 large eggplant |
| | | |
| 1/2 | Tblsp | minced fresh ginger or 1/2 tsp dry |
| 1/4 | tsp | crushed red pepper or 1/2 tsp minced fresh chili |
| 1 1/2 | tsp | black mustard seeds |
| | | |
| | pinch | turmeric |
| 1 | tsp | ground coriander |
| 1 | tsp | garam masala |
| 1 | tsp | sugar |
| 1/4 | tsp | salt |
This is also very good without the panir, if you want to skip that step. If using it, make panir from the milk. Press for 20 minutes or until firm. Cut into thin 1/2 inch squares and fry or deep fry until golden.

If using fresh tomatoes, quarter them and place in a pot with the water. Simmer, covered, for 15 minutes.

Cut up the zucchini/eggplant and fry or deep fry until golden and tender. Drain.

In a wok or large frying pan, heat a little oil over high heat. Stir in ginger, chili, mustard seeds, and hing. Fry until the seeds start popping. Add tomatoes, fried zucchini/eggplant, and remaining spices. Simmer uncovered for 8 minutes. Add panir and cover. Cook for 2 more minutes. Serve hot.