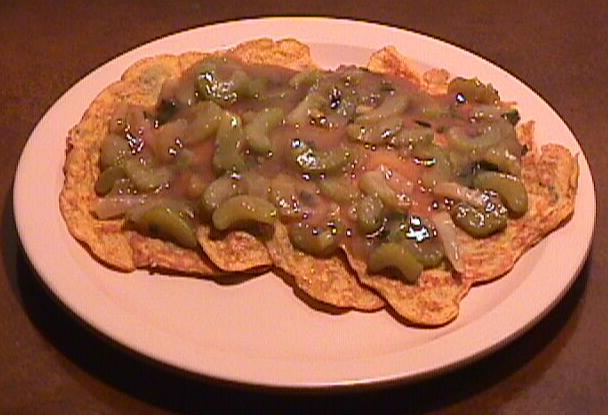 Celery Fu Yung
3
Tblsp
cooking oil
3
cups
thinly sliced celery
1/4
cup
chopped green onions


2
Tblsp
cornstarch
1
Tblsp
soy sauce
salt to taste
cayenne pepper to taste


6
eggs


1
cup
broth
1
Tblsp
cornstarch
2
tsp
soy sauce
1
Tblsp
dry sherry


Makes 6 servings
Heat oil in a large skillet over moderate heat. Add celery and green onion. Saute about 5 minutes. Remove about half of the mixture; set aside.

In a large bowl, combine next four ingredients. Mix well. Beat in eggs. Stir in celery remaining in skillet. Heat a lightly oiled griddle or skillet over moderate heat. Spoon 2 - 3 Tbl of the celery-egg mixture onto griddle as you would for pancakes. Cook until lightly browned, turning once.

In a small saucepan, combine remaining four ingredients. Cook and stir over moderate heat until thickened. Add reserved celery mixture; heat. Serve sauce over celery fu yung.