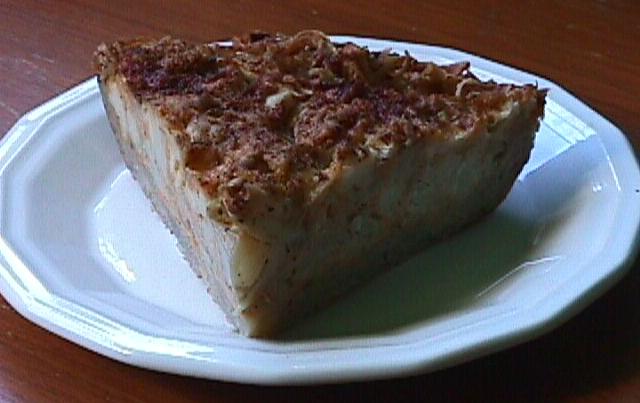 Cauliflower Quiche
Potato crust:
1 1/2 to 2
cups
packed, grated raw potato
1/2
tsp
salt
1
egg, beaten (optional)
1/4
cup
minced onion


Filling:
1
cup
chopped onion
1
medium clove garlic, minced
3
Tblsp
butter or margarine


1
medium cauliflower, cut into small florets
dash thyme
1/2
tsp
basil
1/2
tsp
salt
black pepper


2
eggs
1/4
cup
milk


1
cup
(heaping) grated cheddar cheese


paprika


Use 1 9-inch pie pan
Potato Crust: (or, you may instead use a traditional unbaked pie crust)
Squeeze liquid out of the grated potato. Mix potato with remaining crust ingredients. Pat mixture into well-oiled 9-inch pie pan, building up the sides of the crust. Bake for 30 minutes at 400°F, then brush the crust with a little oil to crispen it. Bake an additional 10 to 15 minutes.

Saute onions and garlic in butter for 5 minutes. Add cauliflower, herbs, salt and pepper to taste, and cook, covered, 10 minutes, stirring occasionally. Beat the eggs and milk together, and combine with the cheese and the cauliflower mixture. Pour into the crust and dust with paprika. Bake at 375°F for 35 to 40 minutes, until set.